【k35】 Dual Diaphragm USB Condenser Mutable Microphone
Regular price
£65.00
Sale price
£59.99
Unit price
per
Sale
Sold out
【Streamlined Plug&Play Setup】USB output enables direct integration with a PC desktop or laptop computer MacBook; PlayStation 4 & PS 5; Included Type C adapter for All Type C devices(Phone, tablets and PC). Need USB to Lightning adapter(NOT INCLUDED) for iPhone 8 and above. The standard-sized 3/8" input on the bottom is for swivel mounting anything, like camera tripods and mic boom arm stands with 3/8" interface.

【Headphone Volume and Mic Mute】With Microphone Gain, Headphone Volume Adjustment and LED Mute button, Control the volume of sound in your headphones and your recording volume, your voice is easily to be adjusted if there is any sensitivity, lack of sound or distortion.
【Real-Time Monitor】The 3.5mm AUX input for real-time listening with zero latency. It allows you to monitor the microphone input in realtime. Good for home studio, Home Karaoke, Gaming, Singing, Chatting, Smule, Garageband, Skype, Discord, Yahoo Recording, YouTube Recording, Google Voice Search, Zoom Meeting, Tik Tok Live, Online Class and Live Stream.
【Dual Capsule 16mm Diaphragm】Unique designed audio circuitry focuses on your voice or instrument while minimizing the sound of the room. Perfect restoration of vocals and instruments, like piano, violin, cello, cymbals, trumpet, saxophone, voiceover. Cardioid polar patterns focus on what you want to record. Start live streaming, podcasting, computer gaming, ZOOM meetings and more with this external microphone.
【Built-In Shock Mount】 Aluminum alloy protects microphone from been hurt and detachable METAL BASE with non-slip design has a certain anti-shock effect.Dampens vibrations to help protect against bumps for smooth and uninterrupted audio.Full Metal Casing with cylindrical design gives a fashion feeling and better experience and leading new fashion trends.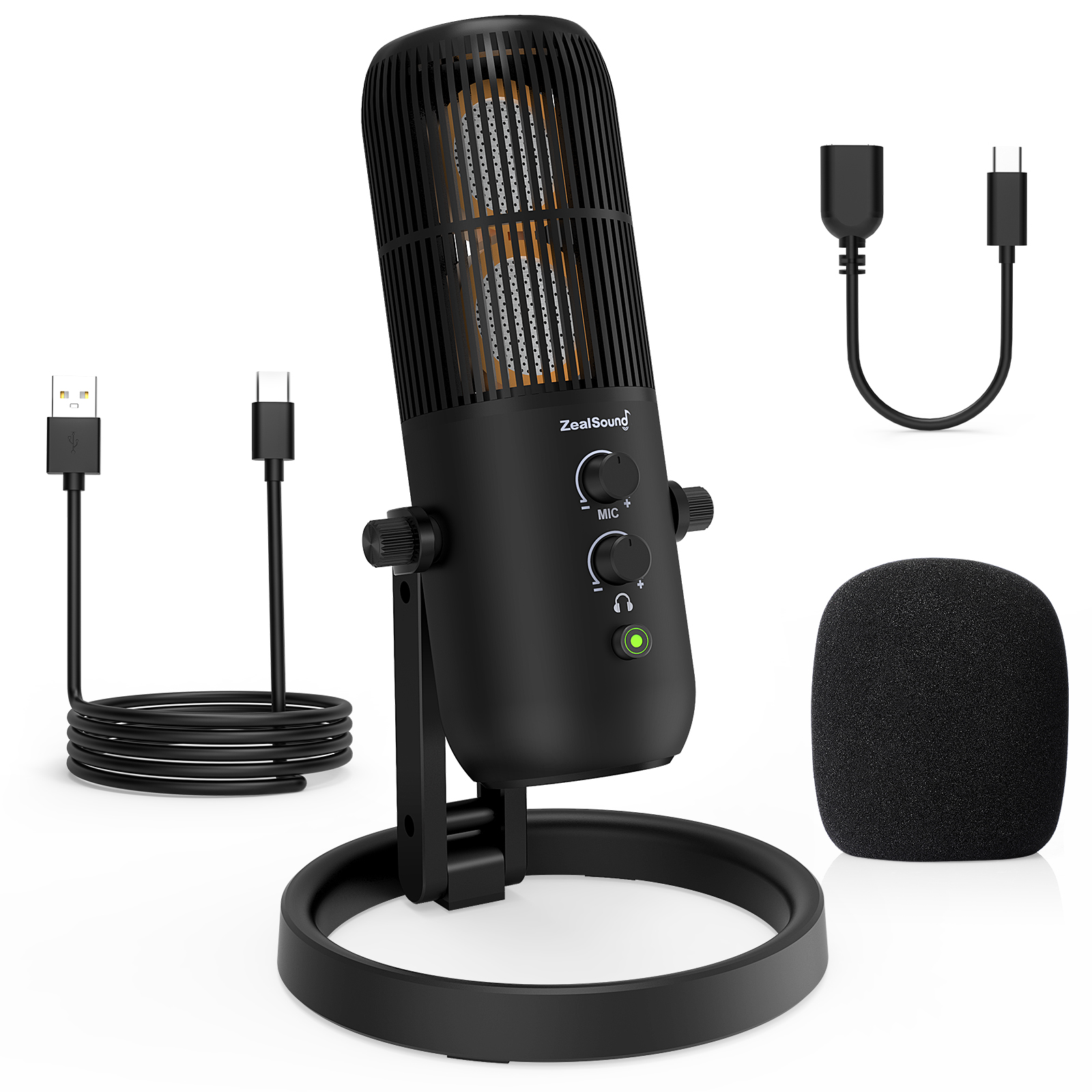 Share
Great Quality but a bit $$$
I do highly suggest you get this mic, Ive ordered from ZealSound before and this is one of the best mics I purchased from them.
As shown in the pictures it is a medium and slightly compact black microphone, and there are two knobs on the front. One to control the audio in your ears and the mic volume itself. The sleek black design is a perfect fit for any setup. There was an instruction manual and a type C USB input to the mic and the regular usb output to connect to the computer. I was able to use this microphone for discord, zoom, and voice recordings as well!
One nitpick I will say about this mic in particular is that there is a slight ding every time a wire touches the base of the mic or even when I type on my computer, its very sensitive to the point where I have to make sure no wires are being touched or anything that would interfere my recordings. And the price is also pretty hefty as well. However, I was willing to make the purchase since Im going to be using this device often.
Good sound quality
Very nice full rich sound. Well made and works great. A good value. Using it for podcast and voice on videos. Very good value for a complete kit.
Incredibly functional for singers, too!
?This is my *absolute* *favorite* day to day mic for recording classical vocals from home. Sopranos capture without tinny or shrill timbre, it is true to vocal color and SIMPLE to use. Just plug it into your capturing source, and use it! HIGHLY RECOMMEND K35 - I LOVE THIS MIC!!!!!!!!!
Amazing! Child gamer approved!
My child wanted a new mic after having a handful of them die on him or just lack clarity. He's a gamer and mic clarity is key when deep in battle.....lol with this mic he can just have it off to the side and never has to move it or adjust any levels, it's just simply there. Truly plug and play with clear instructions if needed. Came boxed excellent for shipping.
Works well for musical voice over work on videos.
The microphone feels sturdy out of the box, has a removable windscreen, and simple connections. I like that it can sit up anywhere on my desk without having to clamp it to something.
One thing to note is that I tried to connect directly to my phone first and the microphone wasn't showing that it was receiving any power. I decided to try connecting to my laptop which it did with no trouble, so then I went back to my phone and it worked perfectly.
It seems you have to connect to a computer before it will work with a tablet or phone.
I'm no expert, but sound quality seems good to me. There are separate dials for mic volume and headphone volume. You can try different levels and placement until you get the sound you like best.
Works great for my desired purpose of recording videos.